Bill Gates on his high-risk climate investments, and spurring innovation to save the planet
FEBRUARY 20, 2021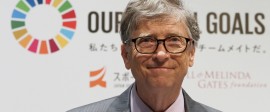 Breakthrough Energy Ventures last month grabbed headlines with the news that the fund had raised another $1 billion to be invested in promising, scalable solutions for climate change.
At the same time — and with less attention — the Bill Gates-led initiative has been expanding into new programs that should help pull other levers that support clean tech innovation and adoption.
Breakthrough Energy Ventures, which started as a promise made at the UN climate talks in Paris, has evolved into an umbrella organization called Breakthrough Energy. It includes the VC fund as well as BE Catalyst, BE Fellows, BE Sciences, BE Policy and Advocacy, and BE Ventures Europe and BE Solutions Canada, which involve partnerships between governments, companies and investors.
In a recent GeekWire interview with Bill Gates about his upcoming book, "How to Avoid a Climate Disaster," we discussed Breakthrough Energy's progress and objectives.
The initiative aligns with concepts in the book, namely that to implement green technologies and reduce greenhouse gas emissions to zero by 2050, there needs to be innovation that drives down the price of the new tech, shrinking what Gates calls "green premiums." That will require investments in research and development, government policies that support the technology, and the creation of reliable marketplaces to purchase the tech.
Gates on fundraising for climate investments: "I was talking to a lot of philanthropists today about ways that they could give either through Breakthrough or off on their own. I'm talking with Jeff Bezos, we're gonna do some things together. He'll obviously do a ton of stuff that's on his own, which I applaud.
Breakthrough Energy is an umbrella. The first really big piece was that Ventures piece and part of the reason I'm being so ambitious now about these other pieces is that's gone so well. I mean literally for the second fund, I didn't have to make a single phone call to raise the fund. Enough people volunteered to join new and enough people stayed in that we'll be well over $1 billion without any distraction to me.
So my time is spent with that science team talking through the companies, talking through the policy things that will help enable those companies, what kind of demonstration projects would the companies like to see us drive forward, and figuring out the right partnerships there."
https://twitter.com/aceconsultants5/status/1363194614476378117
https://www.geekwire.com/2021/bill-gates-high-risk-climate-investments-spurring-innovation-save-planet/