Meeting was held with students of Baku Engineering University
FEBRUARY 23, 2021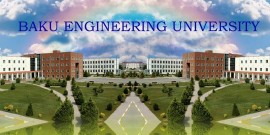 On February 20, an online meeting was held between the representatives of the Ministry of Energy, Energy Regulatory Agency (AERA) and Renewable Energy Agency under the Ministry and the students and teaching staff of Baku Engineering University to inform students about the work done in the field of energy, and to support them in the process of increasing their knowledge in relevant fields.
During the meeting they were informed about the development of energy, including the use of renewable energy sources, the draft law, the work done for attracting private investments in the field of solar and wind energy, pilot projects and future plans in this area. Teachers and students from the department of engineering shared their views on strengthening the scientific research potential in the relevant field and made proposals.
At the meeting, the students were informed in detail about the recruitment process, civil service, competition for admission to the Civil Service and interview rules for vacancies in the Ministry of Energy. At the same time, students were informed about energy regulation, separate sections of energy field on the official websites of the Ministry of Energy and AERA, regularly updated social media websites of these institutions. Finally, students and teachers` questions were answered by the representatives of the organization.
More than 60 students from the faculty of electrical engineering, electronic engineering and electric power engineering of Baku Engineering University and teaching staff of relevant majors attended at the event.
https://minenergy.gov.az/en/xeberler-arxivi/baki-muhendislik-universitetinin-telebeleri-ile-gorus-kecirilib