Goals of green energy strategy in Azerbaijan
JANUARY 17, 2022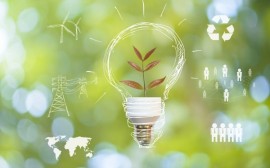 "Energy supply plays a significant role in ensuring economic security in countries. Although Azerbaijan currently does not have energy problems, it must be taken into account that hydrocarbons are an exhaustible resource, therefore, attention must be paid to increasing the use of renewable energy sources," expert-economist Eldaniz Amirov told Report while speaking about the significance of the Khizi-Absheron wind farm project.
"For the effective use of the potential of renewable energy sources, it is also planned to create an information system on renewable energy issues. In this context, the creation of an atlas of the potential of renewable energy sources is also on the agenda," E. Amirov said.
According to him, there are six main alternative energy sources in the world - solar, wind, water, geothermal, waste processing, and biomass energy.
"Among them, wind, solar and water energy are more significant. Yesterday we witnessed a serious step taken in the direction of a more perfect use of these alternative energy sources. The order of the country's leadership to build a total of 13 automated hydrological stations in the liberated territories serves precisely to ensure the maximum use of alternative energy sources."
E. Amirov believes that Azerbaijan should pay attention to this issue since the world's leading companies are already on the agenda of the transition from the status of an oil company to the status of an energy company.
Yesterday Azerbaijani President Ilham Aliyev took part in laying the foundation of the Khizi-Absheron wind farm. The plant with a total capacity of 240 MW will generate up to 1 billion kilowatt-hours of electricity per year, as a result of which 220 million cubic meters of natural gas will be saved and 400,000 tons of carbon emissions will be prevented.
https://report.az/en/energy/goals-of-green-energy-strategy-in-azerbaijan/