China's LONGi to supply panels for solar power plant in Azerbaijan
JUNE 16, 2022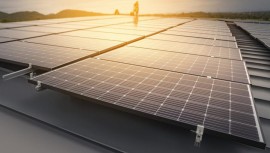 Chinese manufacturer LONGi will supply solar panels for a 230 MW solar power plant, which is being built by UAE company Masdar in the Garadagh district of Baku, Report informs referring to foreign media.
LONGi and Masdar jointly held a signing ceremony on June 14 in Masdar City, Abu Dhabi, for the supply of solar photovoltaic (PV) modules via Masdar's wholly-owned affiliate Source Trading Company for the 230 megawatts (MW) Garadagh Solar Plant, the first utility-scale solar plant in Azerbaijan.
The Project is located nine kilometers northwest of the Alat settlement and will help generate half a billion kilowatt-hours of electricity annually. The total production would be enough to meet the needs of more than 110,000 houses, reduce emissions by more than 200,000 tons a year and create valuable jobs.
"LONGi is looking forward to working with Masdar not only in supporting Azerbaijan on its ambitious clean energy journey but also in exploring more opportunities to further strengthen the cooperation with Masdar in the Middle East and other geographies," LONGi noted.
https://report.az/en/energy/china-s-longi-to-supply-panels-for-solar-power-plant-in-azerbaijan/