European Commission chief says memo will strengthen EU-Azerbaijan energy cooperation
JULY 18, 2022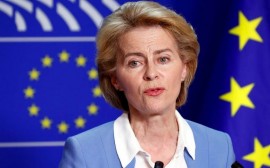 "The memorandum makes the EU-Azerbaijan partnership even stronger," President of the European Commission Ursula von der Leyen said following the meeting with President of Azerbaijan Ilham Aliyev in Baku, according to Report.
"I want to emphasize three points from the memorandum of understanding. The first is that we will double the supply of gas from Azerbaijan to the European Union. Indeed, with this MoU we commit to the expansion of the Southern Gas Corridor. This is already a very important supply route for the European Union. We will expand its capacity to 20 billion cubic meters in a few years.
"The second point that is very prominent in MoU is the topic of the renewables. Azerbaijan has a tremendous potential in renewable energy. And finally our cooperation on gas has to be consistent with our responsibilities on climate," Ursula von der Leyen said.
Azerbaijan and the European Union signed a memorandum of understanding on strategic cooperation in the energy sector. The document was inked by Azerbaijani President Ilham Aliyev and European Commission President Ursula von der Leyen in Baku today.
https://report.az/en/energy/european-commission-chief-says-memo-to-strengthen-eu-azerbaijan-energy-cooperation/