When EBRD to approve loan for construction of wind farm in Azerbaijan?
JULY 26, 2022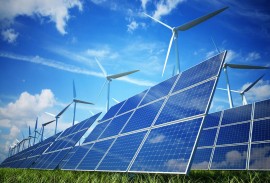 The European Bank for Reconstruction and Development (EBRD) has postponed until September 21 the approval of a long-term loan of up to $105 million for the development, construction and operation of a 240 MW wind power plant located in the Khizi and Absheron districts, Report informs referring to the bank.
The approval of the loan by the Board of Directors of EBRD was expected on July 20. The total cost of the project is $300 million. ACWA Power Azerbaijan Renewable Energy LLC, established in Azerbaijan, represents the borrower ACWA Power.
According to EBRD, the project will add 240 MW of wind power to Azerbaijan's energy system: "This will help replace natural gas-fired power plants and help meet the renewable energy targets set by the government of Azerbaijan in line with the country's commitments under the Paris Agreement. The project will also bring significant environmental benefits by saving up to 400,000 tons of CO2 emissions per year."
It will help the country's low carbon emission transition by reducing its high dependence on thermal generation for power. The transitional effect of the project is expected to be mainly related to the contribution of Azerbaijan to the currently state-dominated energy sector by adding a new private player. This project is expected to be Azerbaijan's first private wind energy project. The project will also introduce a new international energy sector sponsor and marks an essential milestone in the sector's development.
https://report.az/en/energy/when-ebrd-to-approve-loan-for-construction-of-wind-farm-in-azerbaijan/