Azerbaijan's commission on renewables holds its first session
JULY 27, 2022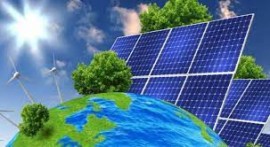 The first meeting of the commission on the use of renewable energy sources was held in an updated composition, established by the decree of the country's President dated December 5, 2019 "On additional measures for the implementation of projects in the field of renewable energy sources."
Minister Parviz Shahbazov spoke about the critical tasks facing the commission in connection with the execution of the order, noting that in accordance with the goals set by President Ilham Aliyev in the energy sector, the implementation of some projects to expand the use of renewable energy sources has already begun. Meanwhile, preparations are underway for others. The minister stressed the importance of the relevant structures to act in concert.
The meeting participants were informed about the industrial-scale wind and solar energy projects under implementation in Azerbaijan, and technical, economic, and financial issues for the preparation of these projects were discussed. The prepared draft decision on measures to be taken before the commission's next meeting was considered and adopted, taking into account the remarks and suggestions.
https://report.az/en/energy/azerbaijan-s-commission-on-renewables-holds-its-first-session/