EBRD ready to cooperate with Azerbaijan within expanding SGC capacity
SEPTEMBER 11, 2022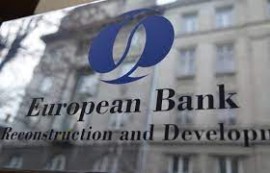 The European Bank for Reconstruction and Development (EBRD) is a long-term partner of Azerbaijan, participating in various projects in the country. EBRD President Odile Renaud-Basso is expected to visit Azerbaijan on September 11-13. In this regard, Report presents an exclusive interview with the head of the EBRD:
- How EBRD can help to expand bringing Caspian energy resources to the European market, from Azerbaijan and greater Caspian region?
We have been Azerbaijan's long-standing partner for three decades, and have established a very good relationship with its ministry of energy. In the past, the bank supported the Southern Gas Corridor project with €1.7bn financing through Shah Deniz II, TANAP and TAP.
We understand that capacity of the Southern Gas Corridor is expandable, and should a decision be taken to do that, we will be glad to engage with Azerbaijan. But, for the Bank to be able to finance the project, it will need to be aligned with the goals of the Paris Agreement and the Bank's Fossil Fuel approach, including mitigation of the carbon lock-in risk, through future-proofing the capacity to transport low carbon gases.
Apart from this, we are also supporting Azerbaijan's renewable energy sector, which in turn frees up domestic gas for exports. This year, we invested in the country's first privately owned, utility scale solar power plant near Alat settlement. We are also set to invest in a first-of-its-kind Wind Power Plant on Absheron peninsula, and we stand ready to provide further support to the sector in the future.
- EBRD provided a long-term loan for the development, construction and operation of a wind power plant with an installed capacity of 240 MW located in Azerbaijan's Absheron region. Can we expect any new loans in the renewables near future? Does EBRD also consider Azerbaijan's renewables potential in liberated lands when looking for further projects?
We invested €21.4 million in the first privately owned, utility-scale solar power plant in Garadagh within 1 year of President Aliyev' signing and approving the renewable energy law. Later this year, we are preparing to follow up with an investment in the wind power plant you mentioned in Absheron region. Please note however, that the project is still in the preparation phase.
Our strong engagement with Azerbaijan's renewable energy sector underscores our willingness to support Azerbaijan's green transition agenda. Renewable energy is one of our key strategic priorities here. So we will continue to explore further investment opportunities in Azerbaijan, and their geographical location will be assessed on a project by project basis.
- Which other steps does EBRD take to contribute to Azerbaijan green economy transition?
The EBRD stands ready to help Azerbaijan further develop its non-oil sector and to boost investment in green economy. Apart from renewables, we are providing financing for increased energy efficiency, cleaner transport and sustainable infrastructure.
During my visit next week, I will sign an agreement to help upgrade Ganja's municipal street lighting. We would like to thank the Ministers of Finance, Economy, other cabinet ministers, and the mayor of Ganja for their continued support for the projects under the Ganja Green Cities program.
The project follows our previous investment in improving solid-waste collection infrastructure in Ganja, which was the first Azerbaijani city to join the Green Cities program. I sincerely hope that this will be one of the many investments in Azerbaijan's green infrastructure.
- What will be EBRD's main focus areas for Azerbaijan in 2023?
We are set to maintain our key strategic priorities for Azerbaijan in 2023 which means continued focus on developing the country's non-oil sector, strengthening of local lenders, as well as boosting investment in green economy and regional connectivity.
https://report.az/en/finance/ebrd-ready-to-cooperate-with-azerbaijan-within-expanding-sgc-capacity/