Azerbaijan is well prepared for the energy transition
SEPTEMBER 15, 2022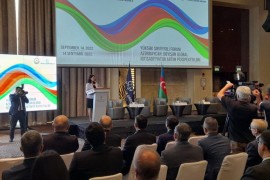 "Azerbaijan is well prepared for the energy transition. The country has a special strategy in this area and it is implemented without delay," Minister of Energy of Azerbaijan Parviz Shahbazov said during his speech at the forum "Azerbaijan: Growth prospects in a changing global economy" held in Baku.
According to the minister, Azerbaijan managed to take care of its energy security, which is necessary for the energy transition.
Shahbazov emphasized that the expansion of renewable energy production is a crucial point in developing the country's economy.
The minister added that for 30 years, Azerbaijan and the World Bank have been closely cooperating in the energy sector, especially within the framework of the Southern Gas Corridor project: "Today we continue our cooperation. It develops in at least four directions. It includes, in particular, the wind energy sector and the electricity market liberalization. Currently, work is underway to create a cooperation map in this area."
https://report.az/en/energy/minister-of-energy-azerbaijan-is-well-prepared-for-the-energy-transition/