Azerbaijan invites German companies to participate in renewable energy projects
SEPTEMBER 19, 2022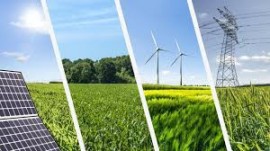 Azerbaijan offered to organize a mission of German companies to Baku and invited them to participate in the renewable energy projects, Report informs, citing the Azerbaijani Energy Ministry.
The matter was discussed in the meeting of Minister Parviz Shahbazov with the newly appointed Ambassador of Germany to Azerbaijan Ralf Horlemann.
At the meeting, the prospects for the development of energy cooperation between the two countries in new directions were discussed.
The minister congratulated the ambassador on his new appointment and wished him success in his work toward the further development of relations between Azerbaijan and Germany.
During the meeting, the importance of the Memorandum of Understanding on strategic partnership in energy signed between Azerbaijan and the European Union was touched upon, and it was emphasized that this document is a message for German companies to focus on the energy sector of Azerbaijan, especially in "green energy". The ambassador was briefed about Azerbaijan's renewable energy projects.
https://report.az/en/energy/azerbaijan-invites-german-companies-to-participate-in-renewable-energy-projects/