Azerbaijan supplied Europe with over 16 billion cubic meters of gas in less than 2 years
SEPTEMBER 22, 2022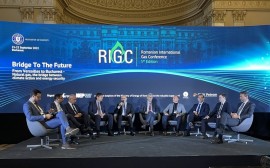 In less than two years, Europe was supplied with more than 16 billion cubic meters of gas, Energy Minister Parviz Shahbazov said in his speech at the 5th Romanian International Gas Conference held under the motto "Bridge to the Future", Report informs.
Shahbazov spoke at the ministerial meeting held with the participation of Romanian Prime Minister Nicolae Ciuca and at the ministerial panel "From Vision to Reality".
The minister spoke about Azerbaijan's contributions to providing diversified supply sources that will balance the energy markets to eliminate the energy crisis: "Gas supply to Europe will increase by 40% from 8.2 billion cubic meters to 11.5 billion cubic meters by the end of 2022. This confirms that the Southern Gas Corridor is working at a maximum capacity, with uninterrupted supply and stability. Today's role of the Southern Gas Corridor in energy security is a real expression of the vision of the President of Azerbaijan, Ilham Aliyev."
The minister noted the expansion of the Southern Gas Corridor within 5 years as the next step in ensuring energy security. As stated, to double the export of natural gas to 20 billion cubic meters, investments should be made in increasing pipeline transmission capacity and production. Contracts should be signed, and technical measures should be taken. "The speedy implementation of this project is our common interest. The Memorandum of Understanding on Strategic Partnership in the energy field between Azerbaijan and the European Union, signed in July, is a decisive step for our work as a team and provides the necessary political assurance. We believe that thanks to the joint political will, Azerbaijan's natural gas will enter Europe at a crucial time for energy security - in 2027."
In the long-term perspective, the plans to ensure that Azerbaijan becomes a source of renewable energy and hydrogen in Europe's diversification process have been brought to attention. In this regard, the importance of the Georgia-Romania Black Sea underwater energy and digital connection project was emphasized in transferring Caspian Sea wind energy to Europe and realizing the "green energy" corridor. It was said that Azerbaijan will become a reliable partner in green energy, and the new cooperation priorities will raise the energy partnership with Romania to a new level.
https://report.az/en/energy/minister-azerbaijan-supplied-europe-with-over-16-billion-cubic-meters-of-gas-in-less-than-2-years/