SOCAR is exploring all opportunities to expand business in Romania
SEPTEMBER 22, 2022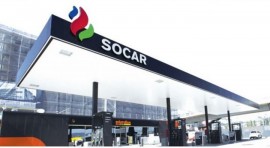 State Oil Company of Azerbaijan SOCAR is considering various opportunities to expand its business in Romania, where it has good business relations and market positions, Azerbaijani Energy Minister Parviz Shahbazov said at the Fifth Romanian International Gas Conference in Bucharest, Report informs.
"SOCAR owns an extensive network of filling stations in Romania - their number reaches 67 - and other oil products enterprises. The company has plans to expand the number of filling stations," said Shahbazov.
"The State Oil Company of Azerbaijan is also in talks on the possibility of participating in other segments of the oil and gas business, in particular in oil refining," the minister said, answering a question about plans to purchase a refinery in Romania.
https://report.az/en/energy/shahbazov-socar-is-exploring-all-opportunities-to-expand-business-in-romania/