BP's solar investment in Azerbaijan sets model for future
NOVEMBER 02, 2022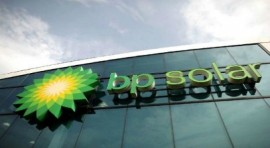 Since 2016, BP has achieved a reduction in carbon emissions in Azerbaijan by 0.5 million tons, and this has been done through the introduction of various methods, BP Vice President for Finance in Azerbaijan, Georgia and Turkiye region Colin Allan told Report.
In particular, on offshore platforms due to optimization and increase in efficiency, BP implemented many small projects during the period of work there, he noted. As for the construction of a solar power plant and connection with the Sangachal terminal with the potential to create a network, this is a big project with serious investments, this is a big step forward, as this is a big investment in solar energy, in the Sangachal terminal, and if BP implements it, it means an 11% reduction in the company's carbon emissions in the country, Allan said.
On the other hand, he added, if the company can implement such projects, it creates a model for future investments. BP can then consider the possibility of electrifying and offshore installations. This is a good opportunity to move on to large projects to achieve the goal of decarbonization, he added.
He said that projects for the production of hydrogen are exclusively conceptual at the present time. The company is currently focusing on decarbonization in its operations.
But BP is always looking ahead, thinking about future opportunities. Thinking about what investments are possible in renewable energy and where it will lead, and how this energy will be marketed, he said.
https://report.az/en/energy/bp-s-solar-investment-in-azerbaijan-sets-model-for-future/