Creation of Azerbaijan-Turkiye-Europe Energy Corridor already started
NOVEMBER 03, 2022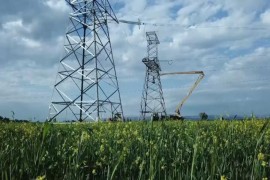 The Azerbaijan-Turkiye-Europe Energy Corridor, one of the three lines considered for the export of green energy to Europe along with traditional markets, is currently one of the perspectives of the new reality, Energy Minister Parviz Shahbazov said at the conference themed "Post-conflict construction model under the leadership of President Ilham Aliyev".
According to the minister, the creation of the historically and geostrategically important Zangazur Corridor has the potential to connect Asia with Europe not only through transport but also through energy: "Work has already begun on the transmission of electricity through the Zangazur corridor to the Nakhchivan Autonomous Republic, from there to Turkiye, and then to Europe. In this regard, the Jabrayil energy hub is a large-scale and strategically important project."
The minister said that today there is a great need for reliable partners like Azerbaijan: "Current realities show that expansion of energy partnership with Azerbaijan is one of the strategic priorities for European countries. Therefore, the green energy potential of this zone is a potential source for ensuring the energy security of our partners. At the same time, there is a strong interest and political support for Azerbaijan's green energy agenda and energy transition plans. In this aspect, we can note the Memorandum of Understanding on Strategic Partnership in the energy field signed with the European Union and our cooperation on energy efficiency and reducing carbon emissions alongside renewable energy in our energy dialogue with the organization."
https://report.az/en/energy/parviz-shahbazov-creation-of-azerbaijan-turkiye-europe-energy-corridor-already-started/