Proposals on production and export of 'green hydrogen' in Azerbaijan prepared
NOVEMBER 04, 2022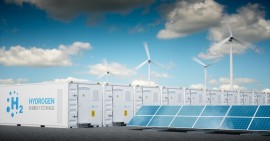 Fortescue Future Industries has prepared proposals on the production and export of 'green hydrogen' in Azerbaijan.
According to Report, the company presented these proposals at the second session of the commission on renewable energy sources presided by Azerbaijan's Minister of Energy Parviz Shahbazov.
Shahbazov noted that the investment attractiveness of the country's economy is very high owing to the purposeful economic policy pursued under the leadership of President of Azerbaijan Ilham Aliyev. According to the minister, as a result of this policy, the 'green energy' projects are being implemented through foreign investments. Shahbazov provided information about the work done by the commission over the past period and the upcoming tasks and touched upon the issues on the agenda of the session.
The draft decision on the results of the session was considered and signed taking into account the remarks and suggestions.
https://report.az/en/energy/proposals-on-production-and-export-of-green-hydrogen-in-azerbaijan-prepared/