US says good prospects for supply of Turkmen gas to EU through Azerbaijan
NOVEMBER 07, 2022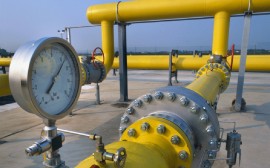 During his visit to Ashgabat, US Assistant Secretary of State for South and Central Asian Affairs Donald Lu described the prospects for Turkmen gas supplies to the EU through Azerbaijan as good.
He noted that early in his career, he had the opportunity to be charge d'affaires at the embassy in Baku. The Azerbaijani side, the EU, the US and Turkmenistan talked about the possibility of supplying Turkmen gas to Europe, he said. It would be very good for the Turkmen government to think about this project now, he added, referring to the Trans-Anatolian Natural Gas Pipeline (TANAP), which is an integral part of the Southern Gas Corridor project, designed to transport Azerbaijani gas to Europe.
Lu believes that the Turkmen people will be better off the more opportunities there are for gas supplies from the country in different directions.
This will provide the people of Turkmenistan not only with the highest prices for Turkmen gas, but also with reliable supplies, he noted. The US is ready to help in any way possible, the diplomat said.
https://report.az/en/energy/us-says-good-prospects-for-supply-of-turkmen-gas-to-eu-through-azerbaijan/