IMF expects Azerbaijan's phased introduction of carbon tax by 2030
NOVEMBER 07, 2022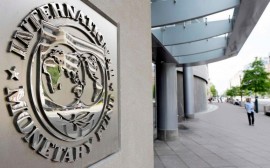 The Caucasus and Central Asia (CCA) region's 2030 mitigation targets could be met through a gradual removal of fuel subsidies in addition to a phased introduction of a carbon tax of $4 per ton in the region, reads a study of the International Monetary Fund (IMF) "How Fiscal Policy Can Help Middle East, Central Asia Reduce Emissions", Report informs.
In the Middle East, North Africa, Afghanistan, and Pakistan, or MENAP, a tax of $8 per ton of CO2 emissions is envisaged.
"Some countries are already taking steps in this direction. For example, Kazakhstan introduced an emissions trading scheme, Jordan has been steadily phasing out fuel subsidies, and Saudi Arabia recently established a regional carbon credit market," the IMF noted.
Raising the effective price of fossil fuels has near-term challenges because it calls on the current generation to bear the burden of the energy transition: "Vulnerable people and businesses that rely on cheap energy would be particularly affected. Though additional fiscal resources from tax revenues and reduced subsidies could ease these side effects, economic growth could temporarily slow, and inflation could increase."
In the long term, however, such a transition will leave future generations an economy that's cleaner, more energy efficient, and potentially more competitive because it would inherit fewer distortions, stronger public finances, and a more efficient resource allocation, according to the report.
"Nearly all 32 countries in the Middle East and Central Asia have pledged to contain greenhouse gas emissions as part of the Paris Agreement. To meet these commitments, countries now need to urgently integrate climate policies into national economic strategies.
We estimate that countries in the Middle East and Central Asia have collectively pledged to reduce annual GHG emissions in 2030 by 13 percent to 21 percent, relative to the current trend, depending on the availability of external support. This means that the region will need to reduce its per capita emissions by as much as 7 percent over the next eight years. Only a few countries have achieved such a reduction while maintaining economic growth," reads the study.
https://report.az/en/energy/imf-expects-azerbaijan-s-phased-introduction-of-carbon-tax-by-2030/