US investor: Azerbaijan develops at high speed
NOVEMBER 16, 2022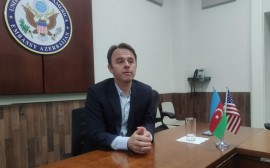 Azerbaijan's economy is evolving very quickly, Patrick J. McGinnis, investor and an advisor to the World Bank on early-stage finance and private equity, told journalists, Report informs.
Historically oil has been an important factor in the economic power of Azerbaijan, but now, as in many other countries of the world, there is an understanding that digital technologies are the future, he noted, adding that currently, there are both investors and entrepreneurs in the country, and developed diaspora in Europe and the US.
As McGinnis added, Azerbaijan has a very specific location: "You can target for business in the Middle East, Turkiye, Western Europe, US. Unlike many countries, Azerbaijanis don't just try to develop business in the West, but also, for example, in Middle Eastern countries."
Answering the question about which sectors of the country have prospects for development and attracting more investors, he noted that technologies related to oil and gas as well as agriculture have a very interesting opportunity. According to him, in this region, information technology (Intech) is one of the most interesting areas, and many companies in Azerbaijan are interested and focused on it.
Regarding state support for the development of entrepreneurship, McGinnis noted that this factor is very important. "It is important when the government makes sure that the education system ensures the success of people with technical skills. As far as I know, Azerbaijan has recognized that technical talent is very critical."
Patrick J. McGinnis is an investor and advisor to early and growth-stage companies globally. He is also an advisor to the World Bank on early-stage finance and private equity. McGinnis coined the term "FOMO," short for "fear of missing out," which was added to the Oxford English Dictionary in 2013. Additionally, he created and hosts the hit podcast FOMO Sapiens and is the author of the international bestseller "Fear of Missing Out: Practical Decision-Making in a World of Overwhelming Choice," and "The 10% Entrepreneur," a book on how to balance the stability of a day job with the excitement of starting a new business.
https://report.az/en/business/us-investor-azerbaijan-develops-at-high-speed/