Georgian Vice Prime Minister speaks about project of gas supply to Europe
NOVEMBER 22, 2022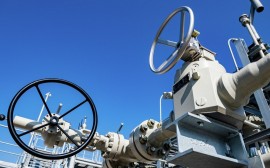 The first step towards the implementation of a project to supply natural gas to Europe is the assessment of the relevant infrastructure in the territories of Georgia and Azerbaijan, Levan Davitashvili, Vice Prime Minister and Minister of Economy and Sustainable Development, told a briefing.
"The energy project envisages the transit of Azerbaijani natural gas from the territory of Georgia to Romania in a liquefied form via the Black Sea. From here, energy resources will be delivered to Hungary and other Eastern European countries," he said.
The minister emphasized that the issue of the implementation of the energy project with the participation of Georgia, Azerbaijan, Romania, and Hungary was discussed during the visit of the President of Azerbaijan, Ilham Aliyev, to Tbilisi: "Then, the European Union (EU) Commissioner for Neighborhood and Enlargement to Georgia, Oliver Varhelyi, spoke about the importance of continent's alternative energy supply sources during his visit to Georgia. Thus, at a time when Europe is interested in alternative sources of natural gas supply and everyone is talking about the diversification of the energy supply, this project will be of particular importance."
https://report.az/en/energy/georgian-vice-prime-minister-speaks-about-project-of-gas-supply-to-europe/