Measures related to green technologies to be accelerated in Karabakh
JANUARY 13, 2023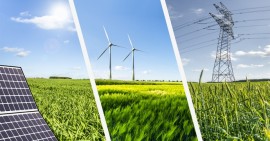 Acceleration of some measures related to the implementation of green technologies and energy efficiency requirements in the liberated territories were discussed at the 4th meeting of the Sub-Working Group established within the Working Group on coordination and monitoring.
J.Abdullayev, the head of the Sub-Working Group, and director of the State Agency for Renewable Energy Sources under the Ministry, who opened the meeting, informed about the January 11 meeting of the Commission on the implementation of projects in the field of renewable energy sources, and the decisions adopted at the second meeting of the Working Group.
A number of issues arising from the activity of the Sub-Working Group were also discussed.
As a result of the discussions, it was decided to speed up the necessary measures to solve the ongoing tasks within thematic events and to report the completed tasks at the next meeting of the Working Group.
Representatives of the Ministries of Energy, Economy, Finance, Agriculture, Ecology and Natural Resources, Emergency Situations, Digital Development and Transport, and other government bodies participated in the meeting.
https://report.az/en/energy/some-measures-related-to-green-technologies-to-be-accelerated-in-karabakh/