Zangazur corridor to have important role for energy exports
JANUARY 12, 2023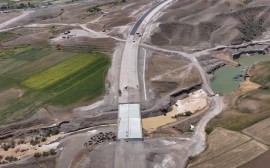 "The Zangazur corridor will have an important role in the export of energy along with other infrastructure projects," A.Zeynalova, Deputy Director of the State Agency for Renewable Energy Sources (AREA).
"In the future, it is planned to export energy to Turkiye and Europe through the Zangazur Corridor. Thus, the creation of the Jabrayil energy junction, the laying of electric transmission lines through the Zangazur Corridor to the Nakhchivan Autnomous Republic, and the export of electricity to Turkiye and from there to the European market will further increase Azerbaijan's geopolitical role, and contribute to the economic development of our country", said Aygun Zeynalova.
Zeynalova noted that the liberated territories are also very rich in renewable energy Sources, and the favorable geographical location of these territories enables sufficient use of this potential: "According to preliminary assessments, there is a potential of more than 7,200 MW of solar energy and up to 2,000 MW of wind energy in the liberated territories.
Fuzuli, Jabrayil, Zangilan districts are rich in solar energy potential, and Lachin and Kalbajar districts, which are mainly mountainous regions, are rich in wind energy. The relevant Implementation Agreement on the 240 MW solar energy project has already been signed in the Jabrayil district.
In the territory of the Lachin and Kalbajar districts, it is planned to implement the construction project of a wind farm with a capacity of up to 400 MW. In addition, according to the order of the President of the country, it is planned to create a "Green Energy" zone in the territories freed from occupation."
According to Zeynalova, in this regard, within the framework of the implementation of the agreement signed between the Azerbaijani Ministry of Energy and the Japanese company TEPSCO on May 6, 2021, the Green Energy Zone Concept project was prepared and submitted to the government.
https://report.az/en/energy/state-agency-zangazur-corridor-to-have-important-role-for-energy-exports/