Political scientist: Azerbaijan is attractive country for Masdar
JANUARY 17, 2023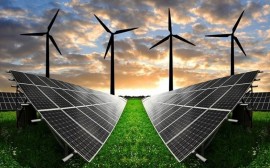 Azerbaijan is a very attractive country for realizing the potential of the Masdar company from the United Arab Emirates (UAE), political scientist, a professor of Hankuk University of Foreign Studies in Korea Rovshan Ibrahimov told Report.
According to Ibrahimov, this is so because favorable conditions have been created in Azerbaijan for the development of renewable energy sources.
"There are way more sunny and windy days in Azerbaijan than in other countries," he added.
Besides, according to the political scientist, Azerbaijan is already forming the necessary infrastructure to export its additional energy resources:
"The necessary infrastructure for exports through Georgia and Turkiye has already been created. It is also planned to make conditions for supplying this electricity to Europe through the Black Sea. Necessary documents on this occasion were signed in December last year."
Commenting on the political cooperation between Azerbaijan and the UAE, the expert noted that relations between the countries have always developed positively.
"As economic cooperation intensifies, political relations between the two countries will also expand," Ibrahimov said.
Masdar, the largest renewable energy company in the United Arab Emirates, is currently implementing the 230 MW Garadagh Solar Power Plant project in Azerbaijan. The plant is expected to generate half a billion kilowatt-hours of electricity annually and reduce the amount of waste emitted into the atmosphere by more than 200,000 tons annually.
https://report.az/en/energy/political-scientist-azerbaijan-is-attractive-country-for-masdar/