Azerbaijan, UAE want to accelerate implementation of green energy projects
JANUARY 18, 2023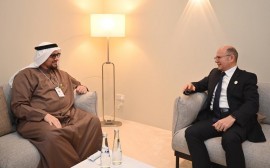 Azerbaijan and the United Arab Emirates (UAE) want to accelerate the implementation of 4 GW green energy projects, citing the Ministry of Energy.
This issue was discussed in the meeting of Minister Parviz Shahbazov with the Chief Executive Officer of Masdar Mohamed Jameel Al Ramahi within the framework of the Green Hydrogen Summit.
Before the meeting, the Azerbaijani minister got acquainted with the company's stand. At the meeting, satisfaction was expressed over the expansion of cooperation with Masdar on the 230 MW solar power plant with 10 GW wind, solar and green hydrogen projects. The importance of accelerating the processes towards the implementation of 4 GW green energy projects was noted.
Shahbazov stated that European countries plan to obtain 20 million tons of hydrogen by 2030:
"Within the strategic energy partnership with the European Union, Azerbaijan is interested in exporting electricity and hydrogen produced from renewable energy sources. In this aspect, the timely implementation of projects with Masdar is crucial."
Al Ramahi said that cooperation with Azerbaijan is a priority and expressed the company's support for these mega projects.
At the meeting, a wide range of views was exchanged on export routes planned in various directions, as well as issues arising from the creation of production capacities, and the next steps were considered.
https://report.az/en/energy/azerbaijan-uae-want-to-accelerate-implementation-of-green-energy-projects/