Azerbaijani president, Dutch premier mull cooperation in Davos
JANUARY 23, 2023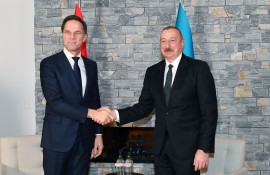 Azerbaijani President Ilham Aliyev has met with Dutch Prime Minister Mark Rutte in Davos.
The sides hailed the development of economic cooperation between Azerbaijan and the Netherlands, and in this regard, emphasized that the Dutch companies are closely involved in the implementation of various projects in Azerbaijan.
Praising Azerbaijan's contribution to ensuring the European Union's energy security and its role in supplying gas to European countries, Mark Rutte expressed his gratitude for this.
During the conversation, they noted the increasing importance of the East-West transport corridor and the Middle Corridor, which is part of it, and exchanged views on regional issues.
The head of state gave information about the normalization of Armenia-Azerbaijan relations and the process of negotiations on a peace treaty between the two countries. The President of Azerbaijan stressed the importance of the negotiation process conducted with the support of President of the European Council Charles Michel, adding that his country is ready to continue the negotiations as part of this process.
President Ilham Aliyev highlighted the recent developments on the Lachin-Khankandi road of Azerbaijan and noted that Armenia is spreading false information about the alleged blockade of the road and is trying to confuse the international community. The head of state said that the illegal exploitation of the natural resources of Azerbaijan in the areas, where the Russian peacekeeping forces are temporarily stationed, has caused the rightful dissatisfaction of the Azerbaijani public and civil society organizations.
It was noted that the free passage of Russian peacekeepers, necessary humanitarian goods, civilians, and goods for civilian purposes is ensured on the road through the International Committee of the Red Cross, and the importance of removing criminal elements from those areas was once again emphasized.
https://www.azernews.az/nation/205289.html