Drilling of new exploratory well begins at Shah Deniz field
JANUARY 24, 2023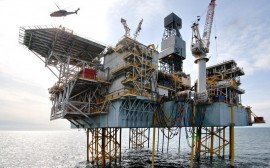 BP today began drilling a new exploration well (SDX-8) at the Shah Deniz contract area as part of an exploration, development and distribution agreement for the Shah Deniz field located in the Azerbaijani sector of the Caspian Sea, citing BP-Azerbaijan.
The well is being drilled by a semi-submersible drilling rig named after Heydar Aliyev. The rig was delivered to the drilling site in December 2022.
It is assumed that the total depth of the well will be about 7,000 meters, and it will take about a year to drill it.
https://report.az/en/energy/drilling-of-new-exploratory-well-begins-at-shah-deniz-field/