Azerbaijani entrepreneurs view activities of Baku SME House
JANUARY 24, 2023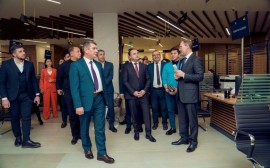 More than 30 entrepreneurs operating in various sectors got acquainted with the activities of Baku SME House, the Small and Medium Business Development Agency (SMBDA) under the Ministry of Economy told Report.
The management of the SME house provided detailed information to the business entities members of Marsol LLC about the opportunities created for entrepreneurs, including "G2B" and "B2B" services, Startup Development Center, a mediation room, and training rooms. It was noted that gathering the services provided to entrepreneurs by state institutions and private companies in a single space will allow business entities to save time and costs.
Entrepreneurs expressed their satisfaction with the conditions created for them at Baku SME House and noted that they would actively use the services of the SME House. Then their questions were answered.
https://report.az/en/business/azerbaijani-entrepreneurs-view-activities-of-baku-sme-house/