Brenda Shaffer: Azerbaijan's role in ensuring EU energy security growing
MARCH 07, 2023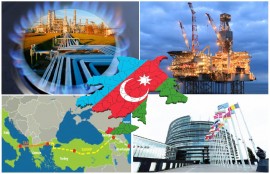 The role of Azerbaijan in ensuring the energy security of the EU is growing, Research faculty member of the Energy Academic Group at the Naval Postgraduate School Brenda Shaffer said at the webinar "The Growing Role of the South Caucasus in European Energy Security" organized by the Central Asia-Caucasus Institute and the Silk Road Studies Program.
The expert noted that in connection with the war between Russia and Ukraine, the EU pays special attention to energy security issues. Shaffer stressed the important role of Azerbaijan in such projects as the Southern Gas Corridor, the Gas Interconnector Greece–Bulgaria. "To launch the Gas Interconnector Greece–Bulgaria, a huge infrastructural work was done. Now Azerbaijan can export gas through this pipeline not only to Bulgaria, but also to other countries," she said.
Shaffer added that in the future Azerbaijan may become an energy hub for the transit and transportation of energy resources from third countries such as Israel.
https://report.az/en/energy/brenda-shaffer-azerbaijan-s-role-in-ensuring-eu-energy-security-growing/