Tsereteli: Azerbaijan plays important role in Europe's energy security
MARCH 07, 2023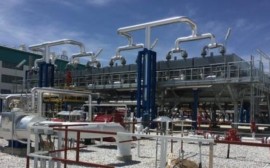 Azerbaijan plays a leading role in ensuring the energy security of Europe, Senior Fellow for Eurasia at the American Foreign Policy Council Mamuka Tsereteli said at the webinar "The Growing Role of the South Caucasus in European Energy Security" organized by the Central Asia-Caucasus Institute and the Silk Road Studies Program.
He stated that the energy projects being implemented by Azerbaijan, Türkiye and Georgia are key not only for the South Caucasus region, but also in providing the EU countries with energy resources.
Tsereteli reminded about the memorandum signed between Azerbaijan, Romania, Hungary and Georgia on December 17, 2022 on the construction of an electric cable from the Black Sea coast of Georgia to the Black Sea coast of Romania, adding that this is another project where the countries of the South Caucasus and the EU will cooperate.
Speaking about the potential of alternative energy sources, he stressed that in the future Azerbaijan will be able to start exporting alternative energy, in particular wind energy, to European countries.
https://report.az/en/energy/tsereteli-azerbaijan-plays-important-role-in-europe-s-energy-security/