Azerbaijan, Czech Republic explore ways to develop economic co-op
MARCH 06, 2023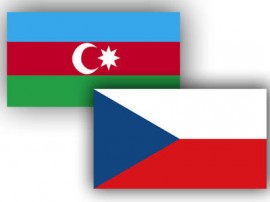 Azerbaijan and the Czech Republic discussed the business environment, benefits and privileges applied in industrial zones, as well as localization of the vehicle production and spare parts for them in Azerbaijan, cooperation, and other issues, Trend reports via the Azerbaijani Ministry of Economy.
The discussions took place as part of a visit of the Azerbaijani delegation led by Deputy Economy Minister Sahib Mammadov to the Czech Republic.
During the visit, representatives of the Ministry of Agriculture, the State Tourism Agency, AZPROMO, the Small and Medium Business Development Agency of Azerbaijan, the Center for Analysis and Coordination of the Fourth Industrial Revolution, the Azerbaijan Amelioration and Water Management OJSC, and "Azersu" OJSC also held productive meetings on bilateral partnership with the Czech agencies.
In addition, the fifth meeting of the Joint Commission on Economic, Scientific, Technical and Cultural cooperation between the Government of the Republic of Azerbaijan and the Government of the Czech Republic was held in the frame of the visit.
The meeting participants emphasized the importance of expanding economic ties in various areas, and the Joint Commission's role in it.
The officials addressed issues of trade, investment, industry, finance, transport, energy, agriculture, food security, 'Smart City' and 'Smart Village' projects, innovation, technology, tourism, air transport, land planning, standardization, etc. Czech companies were invited to partake in Karabakh projects, in the Aghdam Industrial Parks and the Araz Valley Economic Zone, as well as to cooperate in the Baku International Sea Trade Port and the Alat Free Economic Zone. According to the State Customs Committee of Azerbaijan, the trade turnover between the country and the Czech Republic amounted to $88.937 million in January 2023.
https://en.trend.az/business/3719082.html