TAP studies possibility of installing electric motors powered by renewables
MARCH 06, 2023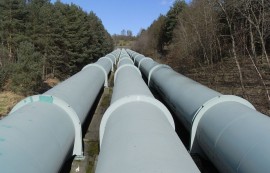 The Trans Adriatic Pipeline (TAP) is studying the possibility of installing electric motors powered by renewables, Luca Schieppati, TAP managing director, said in an interview with Trend.
"At TAP we remain fully committed to making sure the energy transition, particularly in Southeast Europe, happens in a sustainable manner. The expansion of TAP represents an opportunity to implement a series of solutions aimed at reducing the carbon footprint, cutting fugitive emissions and transporting green gases (hydrogen and biomethane) in the future. For this reason, the possibility of connecting the compressor stations to very high voltage networks is being studied, as well as installing electric motors powered by renewable sources instead of gas turbines. And the compatibility of TAP pipes with the transport of hydrogen at 100 percent is also being tested in specialized laboratories," he said.
Schieppati noted that TAP is also a participant in the Joint Industry Project H2Pipe for the development of the world's first guideline for the transport of hydrogen in existing and new offshore pipelines, which will not only benefit TAP, but other transnational interconnectors.
The Trans Adriatic Pipeline, the European leg of the Southern Gas Corridor, has the initial capacity of 10 billion cubic meters, with the possibility of doubling to 20 billion cubic meters.
https://en.trend.az/other/commentary/3718907.html