Azerbaijan to sell gas to EU through special infrastructure
MARCH 13, 2023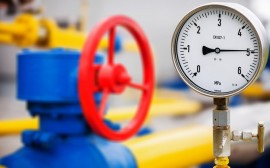 The earthquakes that occurred in Türkiye last month will not cause the gas junction project to be postponed. Azerbaijan will sell gas to the EU through special infrastructure, Russian press said, citing the Turkish government.
As cited by the Ministry of Energy of Türkiye, the earthquakes in the southeast of the country will not be an obstacle to the construction project of the gas hub.
The matter is about the creation of a trading platform and the active development of the gas infrastructure of the southern pipeline. Algeria, Qatar, and Azerbaijan are expected to sell gas to the EU through this center.
Moscow and Ankara returned to the project. There was no talk of canceling the project against the backdrop of the earthquakes.
https://report.az/en/energy/azerbaijan-to-sell-gas-to-eu-through-special-infrastructure/