BTC oil pipeline - example of successful interaction between Turkic countries
MARCH 16, 2023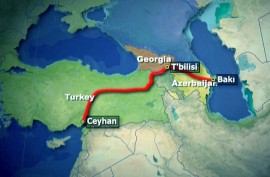 The countries of the Organization of Turkic States (OTS) will play a strategic role not only in expanding transport routes and supply chains, but also in the context of energy security, Turkish President Recep Tayyip Erdogan said at the opening of the extraordinary summit of OTS leaders in Ankara on Thursday.
The Turkish leader cited the Baku-Tbilisi-Ceyhan (BTC) oil pipeline as an example of successful cooperation between Turkic-speaking countries.
BTC's daily throughput is 1.2 million barrels. Oil from Azerbaijan, produced at the block of Azeri-Chirag-Gunashli fields, and condensate from the Shah Deniz field are exported via BTC with shipment from Ceyhan. Other crude oil and condensate volumes are also transported through the BTC, including oil from Turkmenistan and Kazakhstan.
https://report.az/en/energy/erdogan-btc-oil-pipeline-example-of-successful-interaction-between-turkic-countries/