ACWA Power invited to participate in green energy projects in Azerbaijan's Nakhchivan
MAY 24, 2023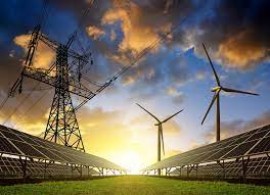 During the meeting of Azerbaijani Minister of Energy Parviz Shahbazov and Chairman of the Board of Saudi Arabia's ACWA Power Mohammad Abunayyan, ACWA Power was invited to participate in green energy projects in Nakhchivan.
The sides exchanged views on the results of the research conducted on the development of renewable energy in Nakhchivan and the evaluation of hydrogen production in Azerbaijan.
They also discussed the current status of cooperation on 240 MW Khizi-Absheron Wind Power Station (WPP), 2.5 GW onshore and offshore wind energy, and energy storage systems projects.
The parties reviewed the action plan and deadlines related to the realization of Khizi-Absheron WPP. They also discussed the issues arising from the signed contracts and agreed on the intensification of the construction of the Plant. It was reported that the Wind Power Plant will be put into operation in 2025. The WPP is expected to produce 1 billion kWh of electricity per year, which will enable saving 220 million cubic meters of natural gas and preventing more than 400,000 tons of CO2 emissions. Khizi-Absheron Wind Power Plant is planned to produce 1 billion kWh of electricity per year.
https://report.az/en/energy/acwa-power-invited-to-participate-in-green-energy-projects-in-azerbaijan-s-nakhchivan/