China supports accelerating construction of another gas pipeline from Turkmenistan
MAY 23, 2023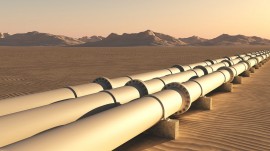 Chinese President Xi Jinping called for accelerating the construction of the 4th line of the Turkmenistan-China gas pipeline, which will also be laid on the territory of Tajikistan and Kyrgyzstan.
In his speech at the first face-to-face summit "Central Asia - China", which is being held in Xi'an, Xi Jinping paid special attention to energy cooperation between the countries.
Thus, he stated the need to increase the oil and gas trade and expand cooperation in the field of energy throughout the production chain, including in the issue of alternative energy sources.
Meanwhile, the 4th line of the Turkmen gas pipeline will not only bring the planned supply capacity to China to 65 billion cubic meters of gas per year but also partially cover the needs of Tajikistan and Kyrgyzstan in this energy resource in winter.
https://en.trend.az/casia/turkmenistan/3751831.html