Azerbaijan's role in ensuring Europe's energy security is very important - British PM
MAY 31, 2023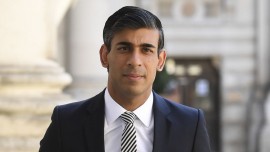 Azerbaijan's role in ensuring Europe's energy security is very important, British Prime Minister Rishi Sunak said.
He made the remark to the participants of the Baku Energy Week, which was read out by British Prime Minister's Trade Envoy for Azerbaijan, Baroness Emma Nicholson, during the opening ceremony of the event.
"Azerbaijan's role as a reliable energy partner is important on the global landscape. By committing to increase the supply of natural gas to 20 bcm by 2027, Azerbaijan is already significantly contributing to the strengthening of Europe's energy security," the statement reads.
Sunak also noted in his letter that the UK supports Azerbaijan's efforts in developing new renewable energy potential and becoming a green energy exporter.
Such initiatives as the establishment of the first Green Energy Advisory council of the Southern Gas Corridor and Black Sea Submarine Cable project, which aims to transport renewable energy from Azerbaijan to Europe, are particularly significant, he added.
https://en.trend.az/azerbaijan/business/3755541.html