IGB awaits final tranche under European Energy Program for Recovery
MAY 29, 2023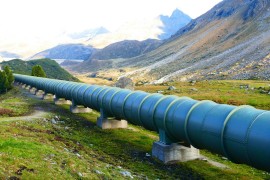 The Interconnector Greece-Bulgaria (IGB) will get the final tranche under the European Energy Program for Recovery this summer, the ICGB, the project operator.
The company said in early November 2022, it received approval for the last portion of the long-term loan from the EIB, following a successful audit conducted by independent international experts. ICGB has already initiated the process to claim reimbursement for eligible costs under the financing provided by the European Energy Program for Recovery. It is anticipated that the final tranche of €22 million will be approved without any issues by the end of summer 2023.
Even after the complete utilization of funding for the IGB pipeline during its commercial operation phase, independent audits will persist. These audits will be conducted annually and will encompass both thorough documentation checks and on-site inspections.
The Greece-Bulgaria Interconnector commenced commercial operations on October 1, 2022. Since the beginning of the current heating season, it has supplied approximately one-third of Bulgaria's winter natural gas consumption. As the primary conduit for diverse natural gas supplies to Bulgaria, the Interconnector Greece-Bulgaria ensures heightened supply security and source variety. This development significantly enhances competition in the natural gas market, leading to optimized prices for both businesses and domestic consumers in the country.
With a total length of 182 km and a pipe diameter of 32 inches, the gas pipeline has been designed with a capacity of up to 3 billion m3/year for transporting gas from Greece to Bulgaria. However, the Interconnector Greece-Bulgaria has the potential to expand its capacity to 5 billion m3/year based on market demand and the capabilities of neighboring gas transmission systems. To accommodate higher gas volumes, the construction of an additional compressor station would be required.
https://en.trend.az/business/energy/3754752.html