EC president: EU attracts more investments in hydrogen energy than US, China together
SEPTEMBER 13, 2023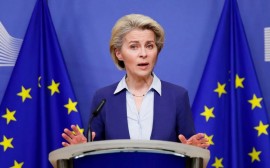 The European Union (EU) is attracting more investment in hydrogen energy development than the US and China combined, the European Commission (EC) President Ursula von der Leyen said at the plenary session of the European Parliament in Strasbourg.
"Today we attract more investments in hydrogen energy than the United States and China together," she noted, without providing specific data.
She noted that European industry is successfully adapting to improving environmental standards. "Over the past five years, the number of clean steel plants has grown from 0 to 38," she said.
The EC president added that "the first European container ship powered by environmentally friendly methane produced using solar energy will be launched" on September 14 in Denmark.
Earlier, Bloomberg, citing a draft EC report, reported that the European Union must invest an additional $763 billion every year to transition to a green economy and completely abandon Russian fossil fuels.
https://report.az/en/energy/ec-president-eu-attracts-more-investments-in-hydrogen-energy-than-us-china-together/