Azerbaijan posts 5% growth in marketable gas production
SEPTEMBER 14, 2023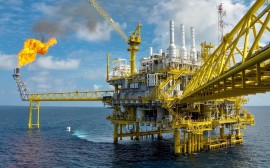 Azerbaijan produced 20,229,900 tons of crude oil, including gas condensate, in January-August 2023, down 7.5% from a year earlier, Report informs citing the State Statistical Committee.
Of this, 20,147,600 tons were marketable oil, down 7.6% from the previous year. The country produced 32,199,600,000 cubic meters of natural gas in the reporting period, up 5% compared to a year earlier.
Marketable gas made up 24,142,300,000 cubic meters, up 5.3% from the previous year.
https://report.az/en/energy/azerbaijan-posts-5-growth-in-marketable-gas-production/