Azerbaijan reveals volume of electricity produced from renewable energy sources
SEPTEMBER 15, 2023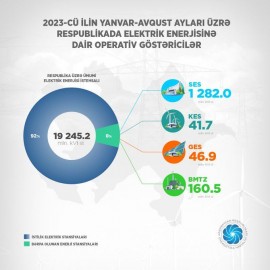 Electricity production from renewable energy sources (RES), including hydro power plants, exceeded 1.5 billion kWh from January through August 2023, Azerbaijani Energy Minister Parviz Shahbazov wrote on X (Twitter).
He said that during the reporting period, 1.2 billion kWh was generated by hydroelectric power plant (HPP), 41.7 million kWh by wind farm, 46.9 million kWh by solar power plant, and 160.5 million kWh by Solid Waste Incineration Plant (SWIP).
The minister noted that the share of RES sector in the total electricity production in Azerbaijan in the reporting period amounted to eight percent.
https://en.trend.az/business/energy/3797496.html#3797496