Energy Ministry: Türkiye supplying significant volumes of gas to Europe through TANAP
OCTOBER 03, 2023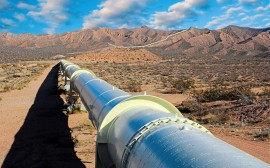 Türkiye is supplying significant volumes of gas to Europe through the Trans Anatolian Natural Gas Pipeline (TANAP), said Minister of Energy and Natural Resources Alparslan Bayraktar at the international oil exhibition and conference in Abu Dhabi.
"Today we supply gas to Hungary, Bulgaria, Romania and Moldova via the Western Balkan Pipeline. We are gradually turning into a gas hub," the minister noted.
Bayraktar also said that Türkiye is seeking to reduce its dependence on energy supplies, and therefore is paying special attention to investments in the oil and gas industry, as well as the field of renewable energy sources in the country. In addition, the country plans to invest in nuclear power as an important tool in reducing carbon emissions.
https://report.az/en/energy/energy-ministry-turkiye-supplying-significant-volumes-of-gas-to-europe-through-tanap/