North Macedonia may join TAP
MAY 01, 2021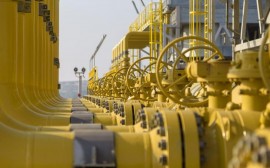 Greece is expected to conclude its latest energy deal in early May, this time with neighboring North Macedonia.
Report informs, citing North Macedonian media, that North Macedonian Prime Minister Zoran Zaev is scheduled to visit Athens within the first half of May to sign the respective treaty, which will promote the creation of a pipeline interconnection project to link the gas networks of the two countries.
In March, the Finance Minister of North Macedonia had approved the final text of the concerted agreement in Athens, after years of negotiations.
This new pipeline will cover a total 160 km distance, of which 50 km on Greek territory. It will start from the Nea Mesimvria area of Thessaloniki and end up at Shtip, 110 km into North Macedonia.
From the valve station near the border at Evzoni (Gevgelija), the interconnector pipeline will connect with the newly completed trans-Adriatic pipeline which carries gas from central Asia through Turkey, Greece, and Albania to southern Italy.
As provided by the Memorandum of Understanding signed between Greece and North Macedonia in 2016, the Greek part of the pipeline will be constructed by the Hellenic Gas Transmission System Operator (DESFE), while the rest of the project will be undertaken by North Macedonia's National Energy Resources (NER).
The energy deal between Greece and North Macedonia is of great importance for the upgrade of the regional energy infrastructure and the materialization of the Central and South-Eastern Europe energy connectivity initiative (CESEC).
TAP transports natural gas to Europe from the giant Shah Deniz field in the Caspian Sea's Azerbaijani sector. The 878 km pipeline connects to the Trans-Anatolian Pipeline on the Turkish-Greek border in Kipoi, crosses Greece, Albania, and the Adriatic Sea, and reaches Italy's southern coast.
On the first day of the project, which started the flow of natural gas to Europe on December 31, 2020, TAP pumped 10.9 million cubic meters of natural gas to Europe.
TAP can stimulate gas supplies to Southeast European countries through interconnectors to be built in the future. For example, Bulgaria will strengthen supply security by meeting 33% of its natural gas needs via TAP. In turn, it will increase the penetration of natural gas in the country. TAP's outlets in Greece and Albania and Italy also open up opportunities for transporting Azerbaijani gas to other European countries.
TAP's shareholders are SOCAR (20%), BP (20%), Snam (20%), Fluxys (19%), Enagás (16%) and Axpo (5%).
https://report.az/en/energy/north-macedonia-may-join-tap/