Iran carries out first supply of crude via Goreh-Jask pipeline
JUNE 01, 2021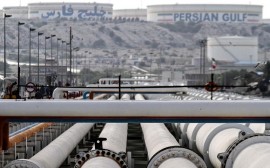 Iran has carried out the first oil supplies via the Goreh-Jask pipeline. Using this pipeline, Iran plans to shift its oil export from the Persian Gulf to the Gulf of Oman.
Report informs, citing IRNA, that the first batch of oil was dispatched from Goreh and then successfully supplied to the port of Jask. On December 14, 2020, Iranian President Hassan Rouhani said that the construction of the Goreh-Jask pipeline would finish by the time the incumbent government's work ends.
Construction of the Goreh-Jask pipeline is a strategic project of the Iranian government, which will help export oil directly from the Gulf of Oman, bypassing the Hormuz Strait.
The state-owned company National Iranian Oil Co. (NIOC) plans to start shipping crude from the Jask terminal next month. The Goreh-Jask pipeline with the design capacity of 1,000,000 barrels of crude daily extends to 1,000 km.
https://report.az/en/energy/iran-carries-out-first-supply-of-crude-via-goreh-jask-pipeline/