SOCAR comments on rise in gasoline prices
JUNE 03, 2021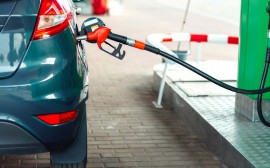 "Premium and Super petrol are imported to Azerbaijan, and their prices depend on the international price," Ibrahim Ahmadov, Deputy Head of the Events and Public Relations Department of the State Oil Company of Azerbaijan (SOCAR), told Report while commenting on the rise in prices for AI-95 gasoline in Azerbaijan.
According to him, as the prices of oil and oil products in the world increase, so do gasoline prices in Azerbaijan: "As the prices of such oil products in the world decrease, so do they in Azerbaijan. For example, before the pandemic, the premium gasoline was 1.50 manat per liter. When the oil price fell during the pandemic, this figure dropped to 1.10-1.20 manat per liter, then to 1.25, and now this gasoline per liter rose to 1.40 manat. That is, the increase in the price of petrol of this brand is due to the rise in world oil prices and oil products."
He noted that the prices of these types of gasoline depend on the country of production, the manufacturer, the price at which it sells. So in Azerbaijan, their prices have increased accordingly.
Ahmadov said that only AI-92 and diesel fuel are the most widely used ones in Azerbaijan. Consumption of these fuels is 90% of total:
"If these fuels are produced in Azerbaijan, their prices will be set by the state. In the future, after 2022, following the completion of the current stage of modernization of SOCAR's Heydar Aliyev Oil Refinery, it will be possible to produce AI-95 gasoline in Azerbaijan. Then, we will no longer depend on the import of this type of fuel, and its value will be regulated by the price set by the Azerbaijani state."
https://report.az/en/energy/socar-comments-on-rise-in-gasoline-prices/