Europe may run out of gas in 2022
JANUARY 05, 2022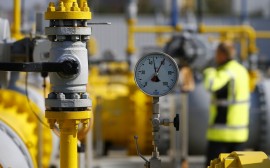 With the two coldest months of winter still ahead, the fear is that Europe may run out of gas, Report informs, citing Bloomberg.
Storage sites are only 56% full, more than 15 percentage points below the 10-year average.
"In none of the past years since records began have we had comparably low storage levels at this time," says Sebastian Bleschke, head of INES, the association of German gas and hydrogen storage system operators. Barring an increase in Russian exports, something that doesn't appear to be in the cards, levels will be at less than 15% by the end of March, the lowest on record, according to researcher Wood Mackenzie Ltd. And that's assuming normal weather conditions.
Traders are already preparing for the worst, with prices for gas delivered from spring through 2023 surging about 40% over the past month. Some say the crunch could last until 2025, when the next wave of LNG projects in the US starts supplying the world market.
https://report.az/en/energy/europe-may-run-out-of-gas-in-2022/