TengizChevroil adjusts oil production in Kazakhstan
JANUARY 07, 2022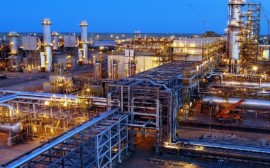 Oil producer TengizChevroil continues to operate in Kazakhstan despite protests in the country, but temporarily adjusted production due to logistics difficulties, Report informs that Sally Jones, a representative of Chevron, told RIA Novosti.
"TengizChevroil operations are ongoing, but production has been temporarily adjusted for logistics reasons," Jones said.
TengizChevroil is a Kazakh joint venture established to develop the Tengiz field in the Atyrau region of Kazakhstan. American oil giant Chevron is its main shareholder.
The company spokesman confirmed that a number of contractor employees had gathered at the Tengiz field in support of protests in Kazakhstan.
"TengizChevroil is committed to ensuring the safety and well-being of its employees in Tengiz and maintaining safety at work," Jones said.
https://report.az/en/energy/tengizchevroil-adjusts-oil-production-in-kazakhstan/