Shahbazov: Every energy resource has right to participate in energy transition
JANUARY 14, 2022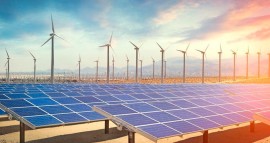 By 2030, the share of renewable energy sources in electricity generation capacity will reach 30%, Azerbaijani Energy Minister Parviz Shahbazov said at a press conference with the participation of Saudi Energy Minister Prince Abdul Aziz bin Salman Al Saud, Report informs.
"At the same time, we have an obligation to turn Karabakh and East Zangazur into a "green energy" zone. After renewing our commitments at COP26, we want to increase our country's carbon emissions to 40% by 2050 and achieve zero emissions in the liberated areas. But I must say that the transition to energy does not necessarily mean a complete shift from one energy source to another. The energy transition should generally be a managed process, and our approach is that every energy resource has the right to participate in the energy transition, but for how long? The process itself will show this," Shahbazov said.
The World Economic Forum (WEF) has been announcing the Fostering Effective Energy Transition Index for ten years now. In the latest index released in 2021, Azerbaijan ranks 44th out of 115 countries, behind only Georgia among post-Soviet countries.
Renewable energy potential is the backbone of the energy transition in Azerbaijan and is very high. Thus, according to the Ministry of Energy, the renewable energy potential is estimated at 26,940 MW, of which 23,040 MW is solar and 3,000 MW - wind.
https://report.az/en/energy/shahbazov-every-energy-resource-has-right-to-participate-in-energy-transition/